Glow in the Dark Adhesive Tape
BRIGHTEST ADHESIVE GLOW TAPE FOR SAFETY APPLICATIONS
TechnoGlow strive to provide customers with the highest quality products available. Our photoluminescent Glow In The Dark Tape is no exception. Made suitable for both indoor and outdoor applications, our Glow Tape is weather-resistant and can be used for a variety of things. The possibilities are endless. With our product you get excellent adhesion and a clean removal with no residual residue. Glow-In-The-Dark Tape is non-toxic, non-radioactive, and safe for pets and people of all ages. Each roll meets and exceeds the glow time required by the International Building Code.
Our tape holds its own against many other competitors. When tested alongside other brands, Techno Tape glowed the brightest and had the longest glow time of all. Our high-quality material also held up the longest when exposed to high levels of stress. Perhaps you've found yourself in a sticky situation and are looking for a tape you can trust.
The glow tape comes in 10 and 32 foot rolls that is 1/2, 1 or 2 inches wide.
Techno Glow Tape offers up to a 24-hour glow time with as little as a 30 minute charge.
Ranging from being a simple night light to being used in professional settings such as hospitals and sound stages, there is a use for everyone. Let's take a look at just a few of the many applications and uses our tape has to offer.
---
Glow Tape is commonly used to mark stairs, steps, railings, and walkways, so even with limited visibility, you always know where everything is.
---
Our tape is often used for a variety of art projects. Many parents use our tape to help with school assignments, and some even make their own art in their spare time.
---
Line your basketball goal with tape so that even when the sun goes down, you can still play ball. Make some squares out of tape for a quick game of glow four-square. Put some tape on the back of your shirt for some glow-in-the-dark flag football. The fun continues even after dark!
---
If you find yourself struggling to find light switches at night, put some tape on the switch cover and say goodbye to fumbling around in the dark.
---
Why stop at just decorating your transportation? If you want to brighten up any object and watch it come to life at night, our photoluminescent tape is just what you need. Use it to spice up your room, cover doors, or just add some flair to your outdoors.
---
Night-time can be a dangerous time to those on bikes and scooters. Make yourself more visible to others by adding a little bit of tape to your transportation. You can even create some style and add some cool designs.
FREQUENTLY ASKED QUESTIONS
HOW LONG DOES GLOW IN THE DARK TAPE LAST?
Techno Glow Tape is the strongest and brightest self adhesive tape on the market. It can glow for as long as 24-hours with a charge as little as 30 minutes. It can be recharged indefinitely. The tape meets and exceeds the required glow time required by the international building code for luminous exit path markings.
Techno Glow Tape is made like normal vinyl tape except it has a layer of photoluminescent material applied that makes it glow in the dark. The tape will absorb direct or indirect light energy and emit a glow when the lights are turned off. It has a self adhesive back that can peeled off to adhere to any smooth clean surface.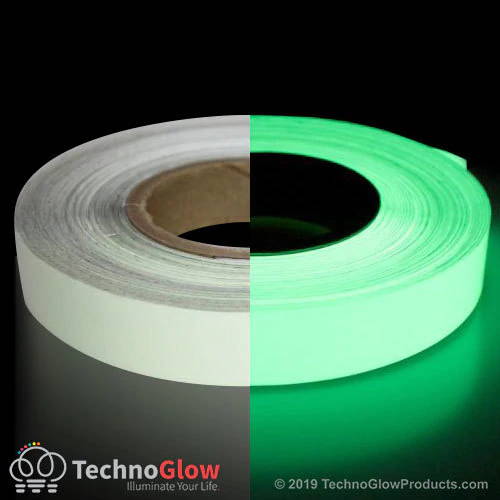 Last Update: July 6, 2020
Publisher: Techno Glow Products
Best Glow in the Dark Tape for Safety Marking.