10% Off Site-Wide
Coupon Code: SPR104
Shop directly from Techno Glow for professional glow in the dark powder and glow in the dark paint. We offer our full range of eco-friendly, non-toxic photoluminescent products at a competitive price. Our products have proven themselves as the brightest, most durable, and safest on the market today. In addition to our glow paints and pigments we also sell a variety of mediums and tools that have been tested and proven to work best with glow in the dark material. We are a one stop shop for all your glow in the dark needs.
Photoluminescent powder Strontium Aluminate is combined with rare earth materials Europium and Dysprosium for a powerful and long lasting glow. We also carry Zinc Sulfide and Yttrium Oxide pigments. Our powders can be combined with paint, resin, clay, top coats for flooring and concrete, and many more mediums to create beautiful luminous effects. It comes in a variety of different colors and particle (micron) sizes to streamline various applications. Techno Glow powders are also UV Reactive.
Techno Glow acrylic paint can be used indoors or outdoors. It not only glows in the dark, but is also UV reactive. Glow paint is available in invisible, or "neutral" colors, and daytime colors. Highly durable made for all weather and can easily be applied to walls, wood, fabric and rocks. Best applied with a brush or roller.
IN THE U.S. & CANADA ON ORDERS OVER $75US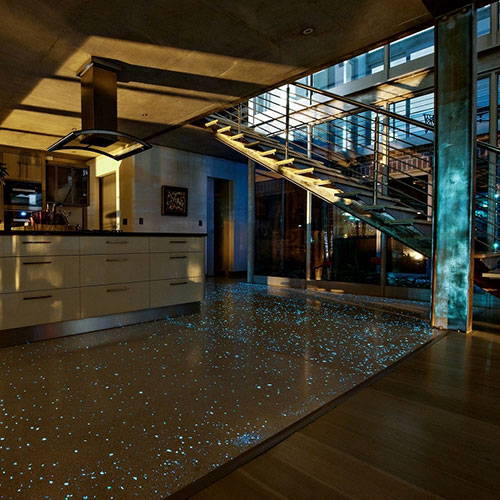 COMING SOON: Glow in the Dark Cement & Concrete
Techno Glow Products
Techno Glow strive to produce and supply the ultimate glow in the dark powder and paints for various applications such as glow paint, casting resin & epoxy, powder paint, safety applications and much more.
Glow Paint & UV Laser Pens
Our glow in the dark paint not only glows in the dark, but also under a uv or black light. This video demonstrates how quickly our uv laser pens charge glow in the dark products.
SUPPORT
You have a lot of questions. Your time is also valuable. We understand! We offer friendly, knowledgeable support to customers large and small alike for all our products. No robot answering machines. No frills. Just real people. We also provide online PRODUCT DOCUMENTATION for photoluminescent pigment and paint.
SHIPPING
Orders received by 1PM central time will ship the same day from our warehouse in Saint Paul, Minnesota. Most standard shipments takes around 2-4 business days for delivery throughout the United States. We ship with USPS, FedEx and DHL around the world. Add products to your cart and get instant shipping quotes.
FREE REWARD POINTS
Our rewards program let everyone earn and spend glow points for certain actions such as making a purchase. Receive 500 reward points for signing up, enough to trade for an instant $5 discount or even a UV laser pen. Follow us on social media and receive addditonal points. There are many more ways to earn glow points. Trade points for promotional products or receive an instant cash discount.